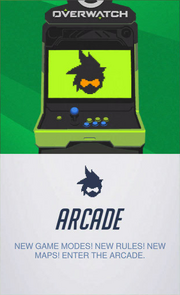 Arcade is a new game mode in Overwatch that can be accessed by the Play menu. It was added on 15 November, 2016 in place of the Brawl option.
It has 5 game modes: 1v1 Mystery Duel, 3v3 Elimination, 6v6 All Brawls!, 6v6 Mystery Heroes, and 6v6 No Limit. There are small displays above each mode's name to tell players how popular the mode is at the moment.
In addition to those modes, seasonal events' brawls and game modes will replaced some Arcade mode in the time of an event.
Special modes
Edit
On some special occasions, one Arcade mode will be replaced by a temporary special mode.
Mode
Date
Rule
Replaced mode
Occasion
Welcome to Oasis
04 Jan, 2017
- 11 Jan, 2017

All heroes
Maps: Oasis only.

Mystery Heroes (before)
Mystery Duel (after)
Introduction of Oasis map
Seasonal Brawls and modes
Edit
During seasonal events, one Arcade mode will be replaced by a seasonal brawl. If there is also a seasonal mode, it will temporarily replace another Arcade mode.
Seasonal Brawls
Edit
Lúcioball and Junkenstein's Revenge have not yet been featured in Arcade, for their events happened for the first time before the introduction of Arcade. But it was confirmed that those Brawls will be featured in the Arcade when their events returned.[1]
Seasonal modes
Edit
Players will receive a Loot Box for the first time winning 1v1 Mystery Duel mode and another Loot Box for the first time winning 3v3 Elimination mode. New modes which are added into the Arcade will have the same offer, even if the mode is temporary.
Players can also earn up to three Loot Boxes by winning any Arcade game modes. These boxes are rewarded after the 3rd, 6th, and 9th win. The count is reset at 00:00 UTC every Tuesday.
If the player hovers over the Arcade mode option, a piece of music that resembles the one used in the arcade for Hanamura will jingle.

Coincidentally, a remix of Heroes of the Storm's theme can be heard.

The hero posing before every round of 1v1 Mystery Duel is the equipped Victory Pose.
In 1v1 Mystery Duel, if one player quits the match, they will also forfeit their Play of the Game, the Play of the Game of that match will show the Highlight from the other player instead, even if in that Highlight the other player did nothing or was dying.
Patch changes
Edit
 December 13, 2016 Patch: Console only: Fixed a bug that prevented Ana from being selected in 1v1 matches. Fixed a bug that prevented players from correctly receiving experience after joining an in-progress 3v3 match. Fixed a bug preventing BattleTags from being displayed correctly during Highlight Intros and Plays of the Game in 1v1 and 3v3 matches. Fixed a bug causing the respawn timer to remain visible during 3v3 matches.
 November 30, 2016 Patch: Fixed a bug that prevented Ana from being selected in 1v1 matches.
 November 15, 2016 Patch: Arcade added. Loading screen now displays the name of the chosen game mode when playing in the Arcade.
References
Edit
Ad blocker interference detected!
Wikia is a free-to-use site that makes money from advertising. We have a modified experience for viewers using ad blockers

Wikia is not accessible if you've made further modifications. Remove the custom ad blocker rule(s) and the page will load as expected.