Barrier ProjectorSemi-immobile barrier type600 barrier

HP

5

m

radius5 sec duration

13

sec cooldown

Winston's barrier projector extends a bubble-shaped field that absorbs damage until it's destroyed. Allies protected by the barrier can return fire from within it.

Default Key: (E,

)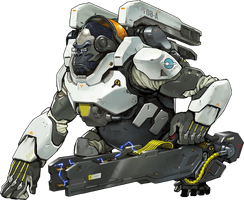 For the information about attacks which is able to pierce through Winston's barrier, see Barrier.
Winston places down a projector that creates a sphere-shaped barrier which has 600 health and a radius of 5 meter around the projector. The projector is affected by gravity; If Winston deploys it in the air, it will drop straight down. The barrier can also be placed on moving objects. It will disappear after 5 seconds, and it can be destroyed earlier. The cooldown begins when the barrier is placed.
Patch changes
Edit
Ad blocker interference detected!
Wikia is a free-to-use site that makes money from advertising. We have a modified experience for viewers using ad blockers

Wikia is not accessible if you've made further modifications. Remove the custom ad blocker rule(s) and the page will load as expected.