Biotic Field Area healing type 40 HP per second 5

m

radius Lasts 5 seconds 15-second cooldown

Soldier: 76 plants a biotic emitter on the ground. Its energy projection restores health to 76 and any of his squadmates within the field.

Default Key: (

,

,

)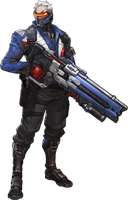 Soldier: 76 plants a biotic emitter that heals teammates within a short radius. The device will stick to any surface which it drops onto. The maximum healing each hero can receive from a single Biotic Field use is 200 HP. The emitter projects a yellow circle on the ground to show its radius. Any obstruction between the device and the player will prevent the healing.
Genji used to be able to deflect the emitter.
Patch changes
Edit
References
Edit