Biotic Rifle 10 rounds per clip 1.5-second reloadPrimary fire: Unscoped Mode Healing/damaging linear projectile type 

70 damage

 

75 healing

 

1.25 shots per second

 85.5

m/s

projectile speed Lasts

0.85 seconds

 ✘ Cannot headshot
Secondary fire: Scoped Mode
 Healing/damaging scoped hitscan type
 1.9

m/s

movement speed
 

70 damage


 

75 healing


 

1.25 shots per second


 0.25 scope in, 0.15 scope out
 Lasts

0.85 seconds


 ✘ Cannot

headshot

Ana's rifle shoots darts that can restore health to her allies or deal ongoing damage to her enemies. She can use the rifle's scope to zoom in on targets and make highly accurate shots.

Primary Fire Key: (

,

,

)
Secondary Fire Key: (

,

,

)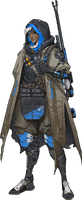 Ana's Biotic Rifle is able to heal teammates, and inflict damage to enemies by shooting biotic syringes. Primary fire is a projectile, while secondary fire is a hitscan and allows her to use the scope. When shooting with the scope, the shot will leave a trail leading back to you, similar to Widowmaker's Widow's Kiss secondary fire; Ana also moves slower when scoping in.
If Ana hits an ally, each shot will heal 75 HP, and it will slowly fill up over a 0.85 second period. When hitting a enemy, each shot will deal 70 damage and it also will also slowly damage over 0.85 seconds.
In the Game Options, Ana has an option that affects her Biotic Rifle:
Toggle Zoom: When enabled, pressing the appropriate button will toggle the scope on and off. Otherwise, the button must be held.
Relative Aim Sensitivity While Zoomed: Adjust the sensitivity of the mouse only when using scope.
Patch changes
Edit
References
Edit