ChargeDamaging/stunning movement type

0

,

50

or

300

damage55

m

range16.66

m/s

movement speed10 sec cooldown

Reinhardt charges forth in a straight line, pinning the first enemy in his path and knocking others aside. If he collides with a wall, the foe he's carrying suffers extreme damage.

Default Key: (Left Shift,
)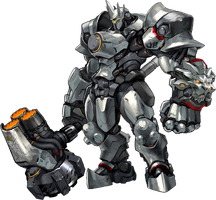 Reinhardt will charge forward at triple his normal speed. He may be steered left and right, but cannot make hard turns. He will continue to charge until he either hits a wall or travels 55 meters.
The first enemy he hits will be stunned and brought with him as he continues his charge. Once Reinhardt hits a wall, the pinned enemy will take 300 damage. If they are still alive after hitting the wall, they will be staggered for half a second. If the pinned enemy escape, either thanks to the help of their teammates or Reinhardt stops after charging 55 meter, they won't take any damage. Any other enemies Reinhardt hits but not pinning will be knocked back and take 50 damage.
When two Reinhardts charge into each other, they will both fall down and take 175 damage.
Patch changes
Edit
Ad blocker interference detected!
Wikia is a free-to-use site that makes money from advertising. We have a modified experience for viewers using ad blockers

Wikia is not accessible if you've made further modifications. Remove the custom ad blocker rule(s) and the page will load as expected.