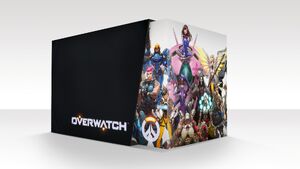 The Overwatch Collector's Edition is a special edition of the game, available for $130.99. It includes the content of Overwatch Origins Edition, and is available for PC, PlayStation 4, and Xbox One. It's only available in physical format.
Contents
Edit
The base game includes:

21 Extraordinary Heroes: Choose your hero from a diverse cast of soldiers, scientists, adventurers, and oddities.
Iconic Environments: Fight on futuristic battlefields around the globe: the cobbled streets of King's Row in London; the mysterious Temple of Anubis; Numbani, where human and Omnic live in harmony, and more...

5 Origin Skins: Overgrown Bastion, Security Chief Pharah, Strike-Commander Morrison, Blackwatch Reyes, and Slipstream Tracer.
Bonus for other Blizzard games
Soldier: 76 Statue: Overwatch's former Strike-Commander stands tall once again — on your desk. This premium-grade statue measures

12.8"

in height.
Overwatch Visual Source Book: Dive into the world of Overwatch with in-depth illustrations and information about the game's heroes, locations, and story.
Overwatch Soundtrack: Enjoy the music of the future with this immersive soundtrack.
Set of Overwatch battlefield postcards
External links
Edit
Ad blocker interference detected!
Wikia is a free-to-use site that makes money from advertising. We have a modified experience for viewers using ad blockers

Wikia is not accessible if you've made further modifications. Remove the custom ad blocker rule(s) and the page will load as expected.