Combat Roll Non-damaging movement type 6

m

range 12

m/s

movement speed Lasts 0.5 seconds 8-second cooldown

McCree dives in the direction he's moving, effortlessly reloading his Peacekeeper in the process.

Default Key: (

,

,

)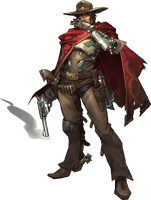 McCree rolls in whichever direction he is moving. Doing this instantly refills the Peacekeeper's ammo.