Concussion MineArcing splash projectile type

120

damage17.5 

m/s

projectile speed 3

m

splash damage radius8 sec cooldown

After placing one of his homemade Concussion Mines, Junkrat can trigger it to damage enemies and send them flying... or propel himself through the air.

Default Key: (Left Shift,
)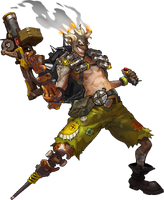 Junkrat throws a mine that sticks itself to solid surfaces. The mine will then remain until Junkrat detonates it with Alt-fire (, ). Nothing else will cause it to detonate.
Enemies can destroy it manually.
Only one mine can be active at a time.
The explosion will deal strong knockback. Junkrat cannot damage himself this way, but he can use the knockback to propel himself through the air.
Using his trusty detonator, Junkrat's Concussion Mine delivers a high-impact explosive with minimal fragmentation.[1]
When holding the detonator, Junkrat has a different hello animation and will waggle his fingers around the detonator instead of waving.
Patch changes
Edit
| | |
| --- | --- |
|  December 13, 2016 Patch: Fixed a bug causing Junkrat's Steel Trap animation to play when detonating a Concussion Mine. | |
References
Edit
Ad blocker interference detected!
Wikia is a free-to-use site that makes money from advertising. We have a modified experience for viewers using ad blockers

Wikia is not accessible if you've made further modifications. Remove the custom ad blocker rule(s) and the page will load as expected.