Configuration: SentryRapid fire hitscan type300 ammunition35 rounds per sec

4

-

15

damage

35

-

55

m

falloff range0

m/s

movement speed2 sec reload

In Sentry mode, Bastion is a stationary powerhouse equipped with a gatling gun capable of unleashing a hail of bullets. The gun's aim can be "walked" across multiple targets, dealing devastating damage at short to medium range.

Default Key: (

,

)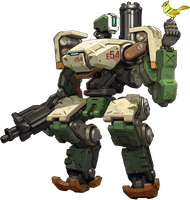 Bastion becomes a stationary turret in this configuration, losing its basic movement ability. Bastion is armed with a gatling gun that deals approximately 525 damage per second. But it quickly loses its damage at anything past 35 meters. Furthermore, its gun no longer inflicts headshot.
Bastion's defense in Sentry configuration is significant tougher, under the influence of Ironclad passive ability, which gives it 20% reduction of incoming damage.
While in this configuration, Bastion also has a weak point on its back in the shape of a blue-glowing cube. Successful attacks here will deal double damage to Bastion. In case of Widowmaker, however, her scoped shot will deal 2.5 times damage instead.
Patch changes
Edit
Ad blocker interference detected!
Wikia is a free-to-use site that makes money from advertising. We have a modified experience for viewers using ad blockers

Wikia is not accessible if you've made further modifications. Remove the custom ad blocker rule(s) and the page will load as expected.