Ultimate Ability: Death Blossom Channeled ultimate type Area of effect damaging ability type 170 damage per sec  Max 510 damage per enemy 8

m

radius 3

m/s

movement speed Lasts 3 seconds ✘ Cannot headshot

In a blur of motion, Reaper empties both hellfire shotguns at breakneck speed, dealing massive damage to all nearby enemies.

Default Key: (

,

,

)
"DIE, DIE, DIE!"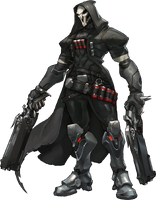 Reaper automatically fires at any enemies around him within range. During this time, Reaper may move and jump, though at reduced speed. Reaper shoots his guns 5 times per second, dealing 34 damage each time, for a total of 15 shots and 510 damage over Death Blossom's duration.
This ultimate ability can be canceled prematurely by an enemy using a stun ability. Knockback effects do not halt the ability and Reaper is unable to cancel it himself once activated.
Enemy and player-controlled Reaper will shout "DIE, DIE, DIE!" when using this ability. Allied Reaper will say "Clearing the area."