Deflect
Ranged counterattack type2 sec duration8 sec cooldown
With lightning-quick swipes of his sword, Genji reflects any oncoming projectiles and can send them rebounding towards his enemies.
Default Key: (E,

)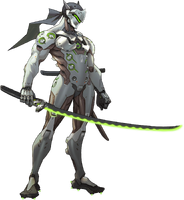 For two seconds, Genji will automatically deflect incoming projectiles towards wherever his crosshair is pointed. This only applies to projectiles within his field of view. Doing this does not affect the properties of the projectile; they will retain their damage, knockback, and ability to headshot (or lack thereof).
Ability interactions
Edit
See below table for abilities marked as both Y and N
Melee attacks including Quick Melee will be prevented from hitting you, but will not reflect at the target.
Dragonstrike: The initial arrow can be deflected, but not the dragons that spawn afterwards.
Concussion Mine: Cannot be detonated. The mine will blow up if it touches an enemy, or disappear otherwise.
Blizzard: The drone can be deflected, but not the resulting blizzard.
Chain Hook: Like melee attacks, will not deflect the hook but does block it.
Pulse Bomb: The bomb itself can be deflected before it strikes any player or surface.
Graviton Surge: The initial projectile can be deflected, but not the resulting black hole.
Genji can accomplish hero-specific achievements from other heroes thanks to this ability, assuming the designated requirements are made.

For example, Genji and deflect Ana's sleep dart into an ulting enemy (Nap Time), or Mei's ultimate and freezes 4 enemies in the process (Cold Snap).
Ad blocker interference detected!
Wikia is a free-to-use site that makes money from advertising. We have a modified experience for viewers using ad blockers

Wikia is not accessible if you've made further modifications. Remove the custom ad blocker rule(s) and the page will load as expected.