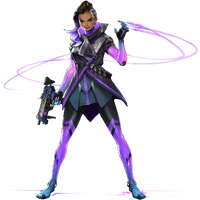 EMP will not deplete Zarya's shields if she has Particle Barrier up, but it will destroy the barrier (thus giving her energy) and Hack her.
EMP will remove the temporary shield provided by Sound Barrier from all enemies caught in the blast.
EMP will also hack any health packs in her line of sight of the blast unless it is already hacked by an enemy Sombra.
EMP does not hack through walls/objects.
EMP is the only way to hack a Symmetra's sentry turrets.
The shields and barriers EMP can destroy include: Photon Barrier, Shield HP, Sound Barrier HP, The Best Defense… HP, Barrier Field, Protective Barrier, Particle Barrier, Projected Barrier, Barrier Projector, Teleporter and Shield Generator's HP.
Patch changes
Edit