Ultimate Ability: Earthshatter Cast-time ultimate type Area stunning ability type 50 damage per enemy 

2

m

,

20

m

range Lasts 2.5 seconds

Reinhardt forcefully slams his rocket hammer into the ground, knocking down and damaging all enemies in front of him.

Default Key: (

,

,

)
"Hammer down!"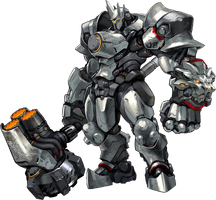 Reinhardt knocks down all enemies within a 20-meter long cone in front of him. This deals damage and stuns for 2.5 seconds, and can be blocked by barriers.
When activating this ability, Reinhardt pounds the ground with his Rocket Hammer. Five projectiles will travel on the ground from the area of impact along the cone; enemies hit by the projectiles will be stunned. Once a projectile is blocked, it will not come back and an area of Earthshatter will not be able to stun enemies. The projectiles can hit targets 2 meters above the ground and can climb objects up to 2 meters high. The effect is not dealt until Reinhardt strikes the ground.
A Reinhardt on the enemy team will shout "Hammer down!", while an allied Reinhardt only grunts with a distinctively louder noise from the hammer itself but says nothing.
Patch changes
Edit