Energy
+1% Particle Cannon damage per point
Max +100% Particle Cannon damage
+1 Energy per 5 barrier HP damage
-2 Energy per sec
2 sec decay buffer
Damage blocked increases Particle Cannon damage.
Default Key: (Passive)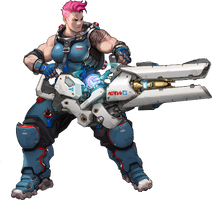 Every point of damage absorbed by Zarya's Particle Barrier and Projected Barrier increases the damage of her Particle Cannon. Energy is counted on a scale of 0 to 100 and degrades by 2 points per second.
Energy level increases at 1 point per 5 shield damage taken.
For every point of Energy, the Particle Cannon's damage for both firing modes increases by 1%, up to 100%. This means that the primary fire's damage per second will be 95 with 0 energy, and 190 with 100 energy.
Zarya's Energy level is displayed below the crosshair. If the default crosshairs is enabled, a ring will surround the crosshair, getting thicker upon energy gain.
Patch changes
Edit
 July 21, 2016 Patch: Power gained from barriers decreased by 20%.
 March 29, 2016 (beta) Patch: Zarya will no longer gain power if Projected Barrier is cast on an ally that is also shielded by Lúcio's Sound Barrier.