Game Browser is a feature of Overwatch, serves as the successor and an extension for Custom Game mode. It is incorporated in Arcade game mode.
Game Browser consists of 2 main features: Find Game and Create Game. Using Find Game, players can look for available pre-created custom games in the server. Concomitantly, player can create their own custom game with customized settings by Create Game. Different from former Custom Game mode, player can earn experience from participating matches with other players. Winning a game using Game Browser won't count toward the earning of Arcade's weekly Loot Boxes.
Find Game
Edit
In Find Game, players are able to find the a list of available games in player's server. These games was listed along with their names, team formats (e.g., 1v1, 3v6, 6v6, etc.), game modes, current maps, pings, and numbers of in-game players (participants and spectators). Players can sort the game using those parameters by clicking it, otherwise it is sorted by ping by default.
By right clicking a game, players can access to its information menu, where they can read the game's rules in detail. The information menu also provide information about how long the game was created, number of in-game players, its creator, and options for spectating, joining or reporting it.
Find Game also provide players the option to refresh, filter and search the game by name. In filter menu, player can filter the game list by these options:
Max ping: by choosing between Excellent, Good, Fair, and Poor, players can limit the game list to display game with ping higher or equal to the selected option.
Only show game with space for party: enable it to filter out the game that don't have enough room for the number of people in player's group.
Show games: by choosing between All or Friends, player can choose to display all games, or to display only game which their friends created.
Game modes: players can enable or disable following game modes: Elimination, Assault/Escort, Assault, Capture the Flag, Skirmish, Control, and Escort. Games which allow disabled game modes will not be displayed.
Maps: players can enable or disable specific maps and submaps. Games which allow disabled maps will not be displayed.
Heroes: players can enable or disable specific heroes. Game which allow disabled heroes will not be displayed.
Create Game
Edit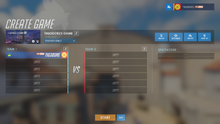 Create Game is the successor of Custom Game, carry on its purpose of creating a custom game with special rule set. The differences between 2 modes are Create Game allows player to set the publicity of their game, which changes the game's visibility on Find Game, and there are more settings in Create Game than its predecessor which allow player to modified gameplay, heroes and maps in detail (for example, specific settings for each hero for each team, etc.)
In the lobby, there are three list of spaces for players: Blue Team, Red Team and Spectators. On the upper left, there is a thumbnail to display next map. Right clicking on the map will open the game's information menu, along with the Report option.
Within the lobby, the creator of the game (the player with the green crown symbol) is able to:
Change the name of the game.
Change the visibility of the game. There are 3 options: 'Public', 'Friends only' (by default), and 'Invite only'.
Change the name of Blue Team, which is set as "Team 1" by default, and Red Team, which is set as "Team 2" by default.
Move player into another list/team. The creator can also swap the positions of 2 players.

When swapping a player to a full team, that player will be temporarily added into another list, named 'In Queue'. The creator can choose the team for players in Queue, between Red Team, Blue Team or Neutral Team. Player in top of the Queue will be automatically added into the corresponding team if a space in their team is open. Neutral Team players will be added into any opened space.

In Queue list has maximum 10 slots.

Change the spectating properties of spectator, between 'Spectate Blue only', 'Spectate Red only', and 'Spectate all'.

Remove player from the game.
Add AI players. The creator is able to set the hero, difficulty, number, and position before adding AI. The Add AI option will be hidden if there is no empty spot on both

Only Ana, Bastion, Lúcio, McCree, Mei, Reaper, Roadhog, Soldier: 76, Sombra, Torbjörn, Zarya, and Zenyatta are available.
The game creator can adjust the hero and difficulty of AI. They can also remove or swap AI players.
Although AI players can be added if Elimination, Capture the Flag are enabled, they will not appear when the game starts.
Other participants are able to invite players to the game. This action can be done by clicking Invite button, or clicking an empty spot on the lists.
Settings
Edit
Only the game creator is able to adjust the settings. There are 4 setting options for Lobby, Modes, Maps and Heroes. There are also a setting options to quickly choose a pre-made rule set, or 'preset'. All changes will be added into a summary, which is always on the right side of the screen. A Quick Play preset is chosen by default.
Choosing a preset will overwrite all of the settings. Thus, there is a warning, which prompts the creator to confirm before a preset is selected.
There are 2 types of preset, Standard and Brawl. For more information, please expand those sections below.
These settings includes adjustments related to the lobby, for example: adjusting team sizes, controlling map rotation, etc. For more information, please expand the section below.
These settings includes adjustments related to the game modes. For more information, please expand those sections below.
These setting includes adjustments related to the maps. The game creator is able to enable or disable specific maps in here. There are 7 sections for 7 modes: Assault, Assault/Escort, Capture the Flag, Control, Elimination, Escort, and Skirmish. For more information about maps for each section, please expand those sections below.
These settings includes adjustments related to heroes. For more information, please expand the section below.
Patch changes
Edit
 March 21, 2017 Patch: Fixed a bug preventing Bastion and Torbjörn bots from taking a defensive position when turret abilities were disabled in Custom Games. Fixed a bug causing players to respawn in the enemy spawn room after being pinned against a car by an enemy Reinhardt on Oasis. A scoring requirement clarification has been added to the Capture the Flag settings, stating that each team's flag will need to be secured before they can score. Fixed a bug that could cause certain settings to be displayed on the Custom Game's information screen even when they weren't being used. Fixed an issue preventing values from the "Ultimate Generation" setting from being correctly displayed. Heroes and maps are now sorted alphabetically under the "Find Game" filters in the Game Browser. Fixed a bug preventing Bastion's Self-Repair ability from being disabled in the Custom Game settings.
 March 21, 2017 Patch: When setting up a Custom Game, players can now disable or modify abilities activated with the secondary fire button.
 February 28, 2017 Patch: Game Browser added to the Arcade. Fixed a bug that caused Roadhog bot to spin around after hooking a target.
Ad blocker interference detected!
Wikia is a free-to-use site that makes money from advertising. We have a modified experience for viewers using ad blockers

Wikia is not accessible if you've made further modifications. Remove the custom ad blocker rule(s) and the page will load as expected.