Hellfire ShotgunsShotgun hitscan type8 ammunition2 rounds per sec

2

-

7

damage for each

pellet

, max 140 damage for a body shot

11

-

20

m

falloff range1.5 sec reload

Reaper tears enemies apart with twin shotguns.

Default Key: (

,

)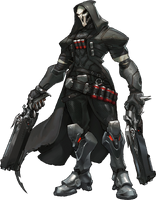 Reaper alternates between his two shotguns. Each of these guns fires 20 pellets for one round, and they have a wide spread, thus they are more effective when close to the target.
While the Hellfire Shotguns are deadly in close-quarter combat, they are cumbersome to reload.[1]
References
Edit
Ad blocker interference detected!
Wikia is a free-to-use site that makes money from advertising. We have a modified experience for viewers using ad blockers

Wikia is not accessible if you've made further modifications. Remove the custom ad blocker rule(s) and the page will load as expected.