Ultimate Ability: Infra-Sight
Transformation ultimate type
Team-wide buff ability type
0.5 sec cast
Lasts 15.5 seconds
Widowmaker's recon visor allows her to see the heat signatures of her targets through walls and objects for a moderate amount of time. This enhanced vision is shared with her allies.
Default Key: (

,

,

)
"No one can hide from my sight."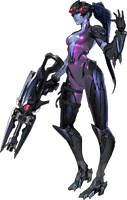 While Infra-Sight is active, enemies not within line of sight will appear through walls as red silhouettes to Widowmaker and her team. Infra-Sight persists after death.
A Widowmaker on the enemy team will say "Personne n'échappe à mon regard," while an allied Widowmaker and player-controlled Widowmaker shout "No one can hide from my sight."
Her Recon Visor detects a broad range of electromagnetic radiation, making enemy heat signatures visible.[1]
When equipped with "Huntress" or "Comtesse" skin, her ultimate voice line is changed into "No one can hide from the huntress" when heard from ally's and player's perspective.
Despite "infra" referring to emitting heat, not all things that would emit heat show from her ultimate, such as Riptire. Ironically, Widowmaker, whom is cold-blooded, still appears during Infra-Sight.
Riptire, turrets, and teleporters are not shown during Infra-Sight.
It is worth noting that Widowmaker is the only non-support character that uses her ally ultimate line from a self-perspective.
Patch changes
Edit
References
Edit