Ironclad
Passive self buff type
+20% damage resistance
Reduce damage taken while transformed.
Default Key: (Passive)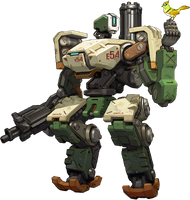 Ironclad is Bastion's passive ability. Ironclad's effect reduces all incoming damage (including self-damage) while in Configuration: Sentry or Configuration: Tank by 20%. The damage reduction is applied before the armor reduction. For example: if Bastion is about to receive 35 damage, Ironclad will reduce the damage to 28, then the armor will reduce the damage to 23.
Patch changes
Edit
 March 21, 2017 Patch: [CONSOLE] Bastion now takes 20% less damage while in Configuration: Sentry or Tank (formerly 35%).
 March 3, 2017 Patch: Bastion now takes 20% less damage while in Configuration: Sentry or Tank (formerly 35%). The total damage reduction that a hero can receive while buffed has been capped at 50% (formerly 70%).
 February 28, 2017 Patch: Ironclad added