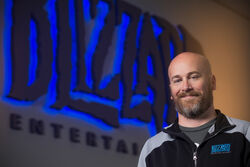 Title - Senior Game Designer
As senior game designer at Blizzard Entertainment, Jeremy Craig is laser-focused on bringing a rich user experience to Overwatch. His mission: design a highly stylized team-based multiplayer shooter set on a near-future earth, featuring a diverse cast of extraordinary characters embroiled in an epic, globe-spanning conflict. As part of his duties, Jeremy contributes to the team's system and character design efforts.
Jeremy joined Blizzard in 2008 in the role of web designer, before transitioning to the Battle.net team as a designer. He has contributed to the user experience for StarCraft II, Diablo III, and Hearthstone: Heroes of Warcraft, before transitioning full-time to his current project.
Jeremy is a frequent moviegoer who enjoys dining out and watching Lakers basketball.
Ad blocker interference detected!
Wikia is a free-to-use site that makes money from advertising. We have a modified experience for viewers using ad blockers

Wikia is not accessible if you've made further modifications. Remove the custom ad blocker rule(s) and the page will load as expected.