Jump Pack Damaging catapult movement type 

1

or

50

damage 20

m

range 

5

m

radius 6 second(s) cooldown

Assisted by his energy pack, Winston lunges through the air, dealing significant damage and staggering nearby enemies when he lands.

Default Key: (

,
,
)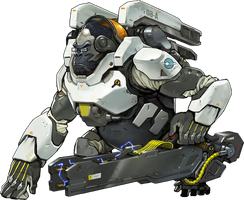 Winston leaps in whichever direction he is aiming. This ability can be used in midair. Upon landing, enemies within five meters take damage.
During Primal Rage, cooldown is reduced to two seconds.
Patch changes
Edit
Ad blocker interference detected!
Wikia is a free-to-use site that makes money from advertising. We have a modified experience for viewers using ad blockers

Wikia is not accessible if you've made further modifications. Remove the custom ad blocker rule(s) and the page will load as expected.