| | | |
| --- | --- | --- |
| " | It's a perfect day for some mayhem. | " |
Junkrat is one of the heroes in Overwatch. He is a demolitionist and an international criminal who is being targeted by law-keepers, bounty hunters and other criminals world-wide for the treasure in his possession.
Junkrat's area-denying armaments include a Frag Launcher that lobs bouncing grenades, Concussion Mines that send enemies flying, and Steel Traps that stop foes dead in their tracks.
Junkrat is an explosives-obsessed freak who lives to cause chaos and destruction.
The attack on the Australian omnium's fusion core forever altered the landscape of the Outback. After the detonation, the area was transformed into a harsh, irradiated wasteland, littered with debris and the twisted fragments of the ruined facility, and unlivable to most.
But there were some who survived. Calling themselves the Junkers, they scavenged the husk of the omnium and formed a lawless, cutthroat society in its shadow. Junkrat was one of them, eking out a living reclaiming metal and components from the ruins. Like many others, he was affected by the lingering radiation. This touch of madness made him ideal for handling dangerous explosives, a love which he turned into an obsession.
He came to notoriety when he discovered an extremely valuable secret in the bones of the omnium. Though few knew the nature of what he found, he was nonetheless pursued by bounty hunters, gangs, and opportunists wherever he went, until he made a deal with the Junker enforcer Roadhog, who grudgingly agreed to be his personal bodyguard in exchange for a fifty-fifty share of the spoils.
Now, with Roadhog in tow, Junkrat has left the Outback, and embarked upon an international crime spree leaving nothing but havoc and bedlam in his wake.
Abilities
Edit
Beside these abilities, Junkrat is able to jump, crouch, reload (only when his ammo is not full), and perform Quick Melee.
All seasonal event items, which are marked with special event icons ( • • • • ), are only available to be unlocked either through the respective Loot Boxes or by Credits within the event's duration.
For all of Junkrat's skins and weapons, see Junkrat/Skins and Weapons.
Common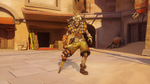 Classic
(default)
Rare

Bleached
75
Drowned
75
Irradiated
75
Rusted
75
Epic

Jailbird
(250)
Toasted
(250)
Firework
(, 750)
Legendary

Fool
1000
Jester
1000
Hayseed
1000
Scarecrow
1000
Common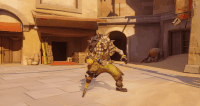 Heroic
(default)
Epic

Can't Deal
(250)
Juggling
(250)
Lounginga
(250)
Puppet
(250)
Vaudeville
(250)
Dud?
(, 750)
Note:

a This emote after activating will remain in its animation until the player inputs other actions to interrupt it.
Victory Poses
Edit
Common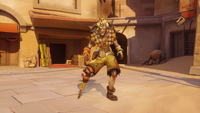 Heroic
(default)
Rare

It'll Freeze That Way
75
Kneeling
75
Nyah Nyah
75
R.I.P.
(, 225)
Bad For Your Health
(, 225)
Voice Lines
Edit
...Blow It Up Again (If at first you don't succeed, blow it up again.)
Anyone Want Some BBQ? ("Anyone want some BBQ? Uhuhu...")
Brrring!
Coming Up Explodey! ("Everything's coming up explodey!")
Happy Birthday
Have A Nice Day!
It's The Little Things
Kaboom
Ooh, Shiny
Smile!
Tick-Tock-Tick-Tock (default, "Tick-tock-tick-tock-tick-tock!")
I Give It A 10! ()
For Junkrat-specific sprays, see Junkrat/Sprays.
Highlight Intros
Edit
Common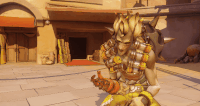 Heroic
(default)
Epic

I'm Flying!
(250)
Rip-Tire
(250)
Unfortunate
(250)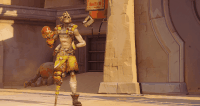 Shot Put
(
)
Golden
(Frag Launcher)
Golden
(Concussion Mine detonator)
( 3000)
Achievements
Edit
Jamison Fawkes was a Junker from the Junkertown who collected bits of metal and scrap for a living. The job combined with the effects of the lingering radiation gave him a deranged love of explosives.
In the remains of the ruined omnium, Jamison found a large and incredibly valuable treasure, and he became the target of bounty hunters and gangs. He hired the Junker enforcer Roadhog as a personal bodyguard in exchange for half of his profits. Together, the two went on a crime spree around the world. Junkrat and Roadhog have stolen royal artifacts from King's Row, destroyed shops and trucks in Paris, robbed the arcade in Hanamura, and stolen most of the Bank of Dorado's gold in their crime spree.
One time, Junkrat and Roadhog made a deal with the CEO of Hyde Global in Sydney to rescue its workers from omnic terrorists, as Junkrat want to become "legit". They found out that the "terrorists" were actually Hyde Global drones, and that the CEO had set them up, so they hanged him from the top story of his skyscraper before blowing it up.[1]
Junkrat later was seen escaping from another escapade with Roadhog in Luna Park, Australia.[2]
Personality
Edit
Junkrat is established to be a chaos-inducing maniac, having a passion for explosives and destruction. He hates being tricked and taken advantage of, but is also willing to do any job that allows him to blow things up without thinking. He is also a bit clumsy, as shown by one of his Highlight Intros where he hits himself in the groin with one of his bombs. Like his bodyguard, he has an abhorrence towards omnics.
Despite his criminal ways, Junkrat does have many positive virtues. He seems to care about his friends, an example of this being his expressive rage towards a police officer for calling Roadhog fat in Going Legit. He often makes brash puns to fire and explosions and even has some friendly voicelines as well, such as saying to "smile" and "have a nice day". He also prefers to reason with people rather than resorting violence to get out of a bad situation.
Junkrat is pretty laid back in battle, as shown by his constant cackles in a fight and his voice lines after placing a steel trap or a concussion mine. He also speaks in a positive and uplifting tone, except for when Zenyatta's Orb of Discord is attached to him.
Merchandise
Edit
Junkrat is a good counter to characters that stay still, such as Bastion and Reinhardt. However, he is weaker against heroes with higher elevation and mobility than him, like Pharah or Genji, who can move to unreachable places.
A popular Symmetra tactic is attaching a photon beam to a person and moving about to avoid their attacks. Players can use this to their advantage, like luring her into a steel trap. Since she has no self-shielding tactics, this is a good opportunity to finish her off.
Frag Launcher
Frag Launcher is a great means to attack enemies from around corners.
Grenades will not explode directly after collision with a wall (with the exception of Mei's Ice Wall), and will bounce before exploding. After hitting a surface, the explosion timer is drastically shortened.
When firing over a wall, an important factor to account for is the arch that is used. While the Frag Launcher's "magazine" can hold five grenades, each of which can deal devastating damage, a direct hit deals more damage and can be more efficient for eliminations.
Richocheting Frag Launcher's grenades in confined space makes it easier to hit or damage enemies.
Concussion Mine
Use the knockback from Concussion Mine to quickly reposition, or Junkrat can knock himself and enemy(ies) away from one another, giving him breathing room.
If used properly, Junkrat can counter Mei and Symmetra fairly well. Junkrat's concussion mine can be used to escape the effects of Mei's

Endothermic Blaster

and evade the reach of Symmetra's

Photon Projector

.
Concussion Mine can act as a good finisher. If fairly close to an enemy, hit them with one grenade, then toss a Concussion Mine at the enemy to kill them and knock Junkrat back, saving him.
Steel Trap
For the "Mine Like a Steel Trap" achievement, a good setup is in a doorway with the enemy following. Blow up the Concussion Mine, and if they are still attempting to chase, they will get in the trap.

If playing in a map that spawns Junkrat in the Overwatch ship, a good tactic is to get a basketball, plant both a steel trap and a concussion mine on it, and melee the basketball around. If everything is aimed right, the trap and mine should stick to the ball. This tactic is good for a distraction of the enemy team as they will most likely be looking at the ball, allowing for a surprise attack. And/or it can kill at least one person if aimed right (ie: Bastion,) making enemy defenses lower. However, the player will need a lot of patience as the ball cannot be carried by the protagonist (unless playing Symmetra); only punched repeatedly. The basketball is very slow and a player will need to stick with the ball as long as they want the plan carried out.
The best way to use Steel Trap is by putting the Steel Trap in the most obvious, but unsuspecting places, so enemies will not bother to check. For example, on maps like King's Row and Route 66, put them on the bottom step if setting up in the beginning of a match. The best places are usually the most obvious places.
If being chased by enemies, launch yourself away with Concussion Mine, and then find someone where to hide (a small room, tunnel, alley, etc.) and place a Steel Trap at the entrance. Let your enemies follow you, and most of the time, they will be so intent on killing yo, they won't check for Steel Traps. Once they are immobile, finish them off with Junkrat's Frag Launcher.
RIP-Tire
The RIP-Tire only has 100 health and if destroyed, will not detonate.
The RIP-Tire is usually pretty easy to spot, due to its red glow and medium size. Spotting RIP-Tires as quickly as possible and destroying will save you.
Counters
Edit
Junkrat's projectiles have a slower speed in comparison to other heroes' attacks, and his grenades can easily be dodged. Soldier: 76, Reaper, Tracer, and Sombra can be serious counters to Junkrat.
Mei can use her

Cryo-Freeze

to protect herself if trapped.
Zarya's

Particle Barrier

not only prevents herself from taking damage, but can also feed charge. That charge increases if trapped (provided the barrier is up).
Junkrat was announced on September 22, 2015, alongside Roadhog. Before that, he was teased in two tweets from @PlayOverwatch,[3] as well as an in-universe video: A Moment in Crime Special Report: "The Junkers"
Junkrat went through several iterations, but everything fell into place when it was decided he'd be Roadhog's companion.[4]
The RIP-Tire was originally a large, shoulder mounted homing missile.[4]
Junkrat's canteen is filled with milk tea with boba, half-sweet.[5]
Cultural References
Edit
Junkrat shares many traits with the goblins of World of Warcraft. These include pointy facial features, wide smiles, love of engineering, love of money, and an obsession with explosives. He also shares several voice lines with the goblins when clicked on.
Junkrat's being a member of a violence-inclined society of scavengers in an irradiated Australian Outback is an obvious nod to the Mad Max film series.
His second name being Fawkes is likely a reference to Guy Fawkes, the British traitor who tried to blow up the Houses of Parliament.

On King's Row, Junkrat may say "Remember, remember... what the heck was I saying again?". It's a reference to Guy Fawkes's poem and the Gunpowder Plot, a failed assassination attempt against King James I of England and VI of Scotland by explosives. The poem started with the lines "Remember, remember the Fifth of November, the Gunpowder Treason and Plot..."
He also occasionally says "God save the King... *cackle*" as a reference to the national anthem.

Junkrat's Jester and Fool skins are reminiscent of The Joker, nemesis of Batman, who boasts a similar smile, facial structure, and state of violent derangement.

In particular, Junkrat's line "Why so serious?" is a reference to the film The Dark Knight, as spoken by The Joker.
In addition, his Scarecrow and Hayseed skins are similar to some depictions of the Scarecrow, another Batman villain.

Junkrat's Vaudeville emote is a reference to the popular genre of entertainment in US and Canada, lasting from 1880 to the late 1920s.
The quote "Baby I'm a firework!" is an allusion to the famous song Firework by Katy Perry.
The spray "Somebody stop me!" is a reference to the 1994 film The Mask, whose main character, the eponymous Mask, has a propensity for explosions, face-splitting grins, and unadulterated wackiness.
Junkrat may occasionally say the quote "That's not a knife!", which is a reference to the 1986 movie Crocodile Dundee.
Junkrat's Frag Grenades resemble cricket balls, which ties into his character's nationality, as cricket is historically Australia's national sport.
When getting a kill while using his ultimate, there is a chance that Junkrat will hum a part of the 1812 Overture, a musical piece that is renowned for using cannon fire in its percussion.
Also, Junkrat will sometimes say the line, "Come out and play!" after a kill with his ultimate, which is a reference to the 1979 movie The Warriors.
If the Dr. Junkenstein skin is equipped, Junkrat may say "He's alive..... HE'S ALIVE!" when respawning. This a reference to the original movie Frankenstein, where Henry Frankenstein exclaims a similar line (It's alive!).
Junkrat was an inspiration for an Inhuman throughout Let Me Stand Next to Your Fire, an episode of Marvel's Agents of S.H.I.E.L.D..[6] Among the many references are verbatim voice lines, the background of the character, his name, and the explosive croquet balls.
Patch changes
Edit
References
Edit
Heroes in Overwatch
Offense
Defense
Tank
Support
Ad blocker interference detected!
Wikia is a free-to-use site that makes money from advertising. We have a modified experience for viewers using ad blockers

Wikia is not accessible if you've made further modifications. Remove the custom ad blocker rule(s) and the page will load as expected.