Light GunLinear projectile type20 ammunition7 rounds per sec14 damage40 

m/s

projectile speed 1.5 sec reload

While outside of her mech, D.Va can continue the fight with a mid-range automatic blaster.

Default Key: (

,

)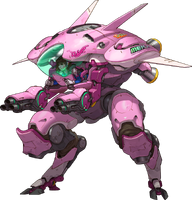 Until she calls a new mech, D.Va engages on foot, using a pistol with a 20-shot magazine (similar to Mercy's Caduceus Blaster) and with no other regular abilities, passive or active.
The Light Gun is a weapon of last resort. This small sidearm allows mech pilots to fire energy bursts.[1]
In comparison to Mercy's Caduceus Blaster, it fires at a faster rate but with a marginal damage decrease, ultimately leading to slightly less but still on-par DPS with the Caduceus (98 vs 100 assuming all shots are hit).
References
Edit
Ad blocker interference detected!
Wikia is a free-to-use site that makes money from advertising. We have a modified experience for viewers using ad blockers

Wikia is not accessible if you've made further modifications. Remove the custom ad blocker rule(s) and the page will load as expected.