Ultimate Ability: Nano Boost Cast-time ultimate type Ally-targeting hitscan ability type 50% damage boost, 50% damage resistance 40

m

range 0.15 sec cast Lasts 8 seconds

After Ana hits one of her allies with a combat boost, they deal more damage, and take less damage from enemies' attacks.

Default Key: (

,

,

)
"You're powered up, get in there!"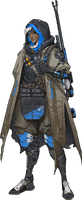 Ana targets one ally and shoots an injection to grant them a boost. Nano-Boosted players will glow blue for teammates and red for the opposing team, while also having an electric effect surrounding them. That player receives a buff for 8 seconds; their attack damage is increased by 50% and gain 50% damage resistance for the duration.
The boost only works for that hero and will not affect that hero's indirect damage sources, such as turrets, mines, and other unconnected weapons and abilities. For example, Torbjörn's turrets and Junkrat's RIP-Tire will not have a boost on their damage and defense. Furthermore, if D.Va activates self-destruct sequence or call a new mech after receiving a boost, she will lose the boost and its benefits in her new mode (although the sound effect still be heard until the time it's supposed to end).
The injection is a hitscan attack. It can be shot through enemy bodies and barriers, as long as Ana is able to see the ally target. It cannot be blocked or deflected. However, it can be interrupted by crowd control such as Sombra's Hack or McCree's Flashbang.
In the Game Options, Ana has an option that affects her Nano Boost:
Nano Boost Sensitivity: Adjust the sensitivity of Nano Boost's targeting. The less value it is, the closer the distance between crosshair and the teammates has to be for activating the Nano Boost.
The player that controls Ana and the ally who receives the boost will hear "You are powered up, get in there." All other allies will hear "Nano Boost administered." Enemy Ana will shout "وريهم قوتك" when she activates Nano Boost. The hero who gets boosted will shout a line to inform other players.
Boosted hero's lines
Edit
Heroes
Voice lines
Ana

I feel like I could take on the world!
I cannot be stopped!

Bastion
D.Va

You better get out of the way!
I am unstoppable!

Genji

力がみなぎってくる!

Strength flows through me!
I am unstoppable!

Hanzo

I cannot be stopped!
I am unstoppable!

Junkrat

There's no one'd stop me now!
I'm unstoppable!

Lúcio

Hoh there's no stopping me now!
I am unstoppable!
Boostio!

McCree

Buckle up, this gunslinger's loaded!
Ain't no stopping me!
I'm unstoppable!

Mei

Everyone, stay out of my way!
Nothing can stop me!

Mercy

I feel empowered!
I feel unstoppable!
I am unstoppable!

Orisa

System output overloaded!

Pharah

Systems at max!
I am unstoppable!

Reaper

Huhu... I feel alive!
I am unstoppable!

Reinhardt

Are you ready? Here I come!
I feel powerful!
I am unstoppable!

Roadhog

Come over here!
I am unstoppable!

Soldier: 76

Get out of my way!
I'm feeling unstoppable!

Sombra

No one's going to stop me!
I am unstoppable!

Symmetra

There is nothing that will stand in my way!
I am unstoppable!

Torbjörn

I'm feeling the power!
I'm unstoppable!

Tracer

No one's gonna stop me!
I'm unstoppable!

Widowmaker

I feel alive!
I cannot be stopped!
I am unstoppable!

Winston

Feeling powerful!
Feeling powerful, and I'm not even angry!
I am feeling unstoppable!

Zarya

I am strong!
My strength unleashed!
I am unstoppable!

Zenyatta

I feel unstoppable!
I feel greatly empowered!
If Nano Boost is applied to McCree when he is activating Deadeye, the speed of the act of lock-in target will be boosted.
All boosted heroes except for Bastion have at least one voice line to express that they cannot be stopped by anyone.
Patch changes
Edit