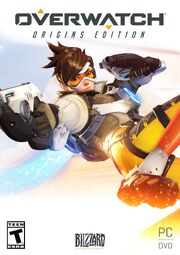 The Overwatch Origins Edition is a special edition of the game available for US$59.99 in physical or digital format. All the content of the Origins Edition is also included in the Collector's Edition. For PlayStation 4 and Xbox One users, the Origins Edition is the only edition available, as the Overwatch Standard Edition is not available for consoles, whereas the Collector's Edition has a limited number of copies.
After purchasing the digital edition of Overwatch on PC, player is still able to upgrade their version to the Origin Edition.
Contents
The base game includes:

21 Extraordinary Heroes: Choose your hero from a diverse cast of soldiers, scientists, adventurers, and oddities.
Iconic Environments: Fight on futuristic battlefields around the globe: the cobbled streets of King's Row in London; the mysterious Temple of Anubis; Numbani, where human and Omnic live in harmony, and more...

5 Origin Skins: Overgrown Bastion, Security Chief Pharah, Strike-Commander Morrison, Blackwatch Reyes, and Slipstream Tracer.
Bonus for other Blizzard games
Images
Video
External Links
Ad blocker interference detected!
Wikia is a free-to-use site that makes money from advertising. We have a modified experience for viewers using ad blockers

Wikia is not accessible if you've made further modifications. Remove the custom ad blocker rule(s) and the page will load as expected.