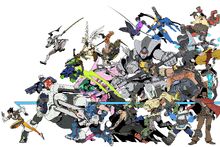 The Overwatch Visual Source Book was included in all purchases of the Collector's Edition of Overwatch. It has 175 pages of Overwatch content covering all the initial 21 heroes, 12 maps, and overview stories of the Overwatch organization.
Table of Contents
Edit
Overview
Overwatch Is Back p.8

The Omnic Crisis p.11
Overwatch: A Change In Strategy p.13
The Fall p.14
Today p.15
Hope p.17
Heroes
Environments
Extra
Conversations With The Overwatch Team p.160
Ad blocker interference detected!
Wikia is a free-to-use site that makes money from advertising. We have a modified experience for viewers using ad blockers

Wikia is not accessible if you've made further modifications. Remove the custom ad blocker rule(s) and the page will load as expected.