Peacekeeper &

Fan the Hammer

Single shot hitscan type (Rapid fire hitscan type)6 ammunition1 round(s) per shot 

 (all round(s) per shot)

2 rounds per sec

 (6 rounds over 0.67 seconds)

20

-

70

damage (

22

-

45

damage, max 270 damage for 6 rounds)

20

-

45

m

falloff range (

18

-

30

m

falloff range)1.5 sec reload

McCree fires off a round from his trusty six-shooter. He can fan the Peacekeeper's hammer to swiftly unload the entire cylinder.

✔ Primary fire can

headshot

,

✘ secondary fire cannot headshot

Primary Fire Key: (

,

)
Secondary Fire Key: (

,

)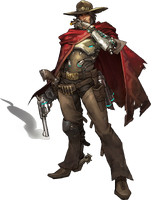 McCree fires two shots per second from his revolver. Each shot does 20-70 damage. The hitscan bullet has a falloff range from 20 to 45 meters. McCree's primary fire is perfectly accurate, and will hit exactly where the crosshair is, making him even more of an aim-based hero.
Alt-fire will fire all 6 shots in ~0.67 seconds (around 10 shots per second), with each shot dealing 20-45 damage up to a maximum of 270 total damage. This method has a wider spread and cannot deal headshots.
The Peacekeeper revolver was built by a legendary gunsmith. It fires high-caliber ammunition with technological enhancements.[1]
Patch changes
Edit
References
Edit
Ad blocker interference detected!
Wikia is a free-to-use site that makes money from advertising. We have a modified experience for viewers using ad blockers

Wikia is not accessible if you've made further modifications. Remove the custom ad blocker rule(s) and the page will load as expected.