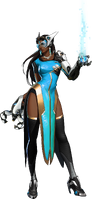 For the information about attacks which is able to pierce through Symmetra's barrier, see Barrier.
Symmetra creates a massive flat barrier, which spans across the map, anywhere in front of her. The barrier is not obstructed by parts of the environment and has an infinite size.
The barrier has 5000 HP and will block all incoming damage from enemies for as long as it is in front of them. Enemies can pass through without any effect.
A player-controlled or hostile Symmetra will say "यही परम वास्तविकता है!", while an allied Symmetra will say "Reality bends to my will!"

Photon Barrier is the first regular ability to become an ultimate ability.
With 5000 HP, it is currently holds the largest amount of HP in the entire game in normal mode.
With it's "infinite size", it is the largest asset in the game.
Patch changes
Edit