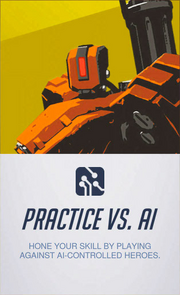 The Practice vs. AI is a training mode in which players can team up and fight against a team of AI. It can be accessed from the Training menu. This mode is identical with Play vs. AI with minor differences. This mode can be accessed from the Training menu.
For the rules of this game mode, see Play vs. AI.
After choosing this mode, the game will attempt to match players with a random Play vs. AI's match.
Players cannot access this mode when in a group. But the players can group up with team members after joining the match; the experience bonus will be applied as normal.
The result will not be archived in Career Profile.
Patch changes
Edit
Ad blocker interference detected!
Wikia is a free-to-use site that makes money from advertising. We have a modified experience for viewers using ad blockers

Wikia is not accessible if you've made further modifications. Remove the custom ad blocker rule(s) and the page will load as expected.