Projected Barrier Ally-projected personal barrier type 200 barrier

HP

 30

m

range Lasts 2 seconds or until destroyed 8-second cooldown

Zarya surrounds one of her teammates with an energy barrier that simultaneously absorbs fire and boosts the power of her Particle Cannon.

Default Key: (

,

,

)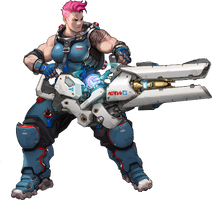 Zarya creates a bubble-shaped barrier around a teammate. The barrier has 200 health and lasts for 2 seconds. Zarya's Energy will increase by 1 point per 5 shield damage taken. Thus, the maximum Energy point that Zarya is able to gain in one use of barrier is 40. The barrier will absorb any kind of damage, even the pinned damage of Reinhardt's Charge. If the barrier still have at least 1 HP, it will still absorb incoming damage, no matter how large it is.
While the barrier holds, the equipped hero is immune to most forms of crowd-control ability, such as Mei's Endothermic Blaster freezing effect, Roadhog's Chain Hook stun effect. They are, however, not immune to crowd-control effects that pierce through the barrier, such as the knockback effect of Winston's Primal Rage and pinned effect of Reinhardt's Charge.
In the Game Options, Zarya has one option that affects her Projected Barrier:
Projected Barrier: Adjust the sensitivity of Projected Barrier's targeting. The less value it is, the closer the distance between crosshair and the teammates has to be for projecting barrier.
Patch changes
Edit