"Current outlook: uncertain."
This content is currently being modified on the Public Test Region.
Please refrain from editing the page to include the PTR changes until they are added to the live version of the game.

Resurrect Single-target resurrection type 5

m

range 1 sec cast time Lasts 2.25 seconds 30-second cooldown

Mercy radiates restorative power, bringing nearby dead allies back into the fight with full health.

Default Key: (

,

,

)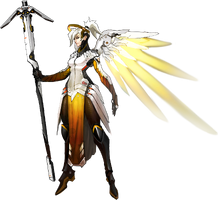 When an ally dies, Mercy is able to see a yellow soul globe at the spot where they died. Using this ability, Mercy is able to revive any nearby fallen teammate, restoring them to full health at the location of their respective soul globe. This applies to any teammate within 5 meters of Mercy that has not yet respawned. The ability is affected by line of sight restrictions: Mercy can't Resurrect teammates through walls, below floors, and above ceilings, even if they're within range. Mercy must also face the soul to resurrect the player. When D.Va is resurrected by Mercy, she comes back outside her mech and immediately gets her ultimate Call Mech at full charge.
Casting Valkyrie will instantly reset Resurrect's cooldown, and will also reduce its cooldown to 10 seconds. If Valkyrie ends while Resurrect is still on its lower cooldown, the cooldown time will not reset, restart, or increase.
When resurrected, there is a 2.25 second delay before the teammate is fully revived. During this time, the revived teammate will be glowing yellow and is invulnerable, but cannot use abilities.

Resurrect is the first (and currently only) ability to lose its status as an ultimate ability after the game's launch.

When Resurrect was still an ultimate ability, the ultimate callout for an allied or player-controlled Mercy was a louder version of "Heroes never die!", while the callout for an enemy Mercy was "

Helden sterben nicht!

"
Resurrect is also the first (and currently only) ability to have its icon changed after live release.

At 30 seconds, Resurrect has the longest cooldown of any normal ability.
Mercy's "Heroes never die" voice line changes with some of her Legendary skins.

The Imp and Devil skins change it to "Heroes never die… for a price."
The Sigrún and Valkyrie skins change it to "Til Valhalla!"
The Winged Victory skin changes it to "Onwards to victory!"
The Witch skin changes it to "My servants never die!"
Patch changes
Edit