Ultimate Ability: Resurrect Area resurrection ultimate type 15

m

range 

1

sec cast Lasts

2.25 sec

Mercy radiates restorative power, bringing nearby dead allies back into the fight with full health.

Default Key: (

,
,

)
"Heroes never die!"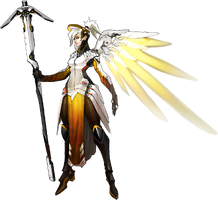 When an ally dies, Mercy is able to see a yellow soul at the spot where they died. Using this ability, Mercy is able to revive any nearby fallen teammates, restoring them to full health and spawn them to the location of their soul. This applies to any teammate within 15 meters of Mercy that has not yet respawned. The ability is also applied to dead teammate is not on the line of sight with Mercy (e.g. behind a wall, up on another flatform, etc.).
When this ultimate is fully charged, a counter will appear above the crosshair displaying the number of fallen teammates within range. This ultimate cannot be used if there is nobody within 15 meters to revive.
When resurrected, there is a 2.25 second delay before the teammates are fully revived. During this time, Mercy and her revived teammates will be glowing yellow and are invulnerable. These revived teammates is unable to move or use any ability; once this 2.25 seconds is over, they can begin playing as normal.
Using the ability also resets Guardian Angel's cooldown.
An allied Mercy and a player-controlled Mercy shout "Heroes never die!" upon activation, while a Mercy on the enemy team will say "Helden sterben nicht!"
Ultimate charge gain
Edit
Mercy gains ultimate charge through healing and boosting allies, inflicting damage onto enemies.
Mercy passively gains ~1% charge per 3 seconds.
Mercy gains ~1% charge per 20 damage dealt onto enemies (excluding damage dealt to barrier, wall, etc.).
Mercy gains ~2% charge per 60 HP healed (1 second healing) to allies (excluding self-inflicted damage).

Mercy does not gains ultimate charge through self healing.

Mercy gains ~2.3% charge per 30 boosted damage* by Caduceus Staff.
*Mercy will boost an addition 30 damage for an allied attack which deals 100 damage.
Mercy's ultimate voice line change with her Legendary skin.

Equipping Mercy with the Imp or Devil skin, she says, "Heroes never die… for a price."
Equipping Mercy with the Sigrún or Valkyrie skin, she says, "Till Valhalla!"
Equipping Mercy with the Witch skin, she says, "My servants never die!"
The change only affects self perspective and allies' perspective. Mercy's enemies still hear "

Helden sterben nicht!

"
Patch changes
Edit