Rivet Gun 18 rounds per clip 2-second reloadPrimary fire: Rivet Shot Arcing projectile type 70 damage per shot 1.67

(2.5)

shots per second 1 round per shot 60

m/s

projectile speed ✔ Can headshot
Secondary fire: Rivet Burst
 Shotgun projectile type
 

6

-

15

damage per pellet
  10 pellets per shot
  Max 150 bodyshot damage
 

7

-

20

m

falloff range
 1.25

(1.875)

shots per second
 3 rounds per shot
 120

m/s

projectile speed
 ✔ Subject to

falloff damage


 ✔ Can

headshot

Torbjörn fires rivets at long range, or ejects molten metal from his gun in a short, close-range burst.

Primary Fire Key: (

,

,

)
Secondary Fire Key: (

,

,

)
Switch Key: (

or

,

,

)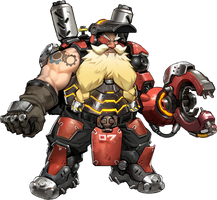 Torbjörn's Rivet Gun fires a small arcing projectile for its primary fire. It deals 70 damage for each rivet shot. It has no damage falloff and can headshot.
Rivet Gun's secondary fire is a short-range burst that costs 3 ammo and fires more slowly; it is a burst of 10 rivet pellets that each do 15 damage for a maximum of 150 damage. The secondary fire has damage falloff and can still headshot.
When Torbjörn switches to his Forge Hammer for more than 2 seconds, the Rivet Gun is automatically reloaded.
Patch changes
Edit