Rocket Launcher Linear splash projectile type 6 rounds per clip 1-second reload 120 direct hit damage 

20

-

80

splash damage  

10

-

40

splash self damage  2.5

m

splash radius 

1.11 shot per second

 35

m/s

projectile speed ✘ Cannot headshot 

✔ Can inflict self damage

 

✔ Can inflict self knockback

Pharah's primary weapon launches rockets that deal significant damage in a wide blast radius.

Default Key: (

,

,

)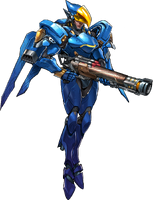 Pharah lauches a rocket which deals onto enemies 120 damage for a direct hit, and 20 to 80 splash damage to if the rocket hit nearby. The damage changes based on the distance between the target (including Pharah) and the explosion; the further the distance is, the lower the damage inflicted.
Pharah's Rocket Launcher is designed for use against armed foes and small vehicles.[1]
Patch changes
Edit
 November 15, 2016 Patch: Minimum explosion damage has been increased by 13%. Minimum explosion knockback has been decreased to 0%.
 November 9, 2015 (beta) Patch: Rate of fire has been slightly reduced
References
Edit