Sentry Turret Independent object constructing type 3 turrets stored  Max 3 turrets on the field 1.5 seconds cast time 

10

-second cooldown
Enemy-tracking turret data
 Attack and debuff type type
 Enemy-autotargeting beam attack type
 

25

HP


 

50

or

~43

damage per second
 -

30%

movement speed
 10

m

range
 Lasts until destroyed or replaced
 ✘ Cannot

headshot

Symmetra sets up a small turret that automatically fires speed-reducing blasts at the nearest enemy within range. Several turrets can be built on the battlefield at once.

Default Key: (

,

,

)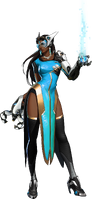 Symmetra throws a small turret that fires a laser at targets within 10 meters when placed, and can be destroyed while travelling. This laser deals 60 damage per second and slows the target's movement speed. The slowing effects will stack if multiple turrets attack one target.
These turrets can be placed on any surface and have 25 hp each. Up to 3 turrets may be placed, and Symmetra may have up to 3 turrets in reserve. Symmetra can see her turrets' locations through walls, and is notified in this way when they are attacking an enemy or if they have been destroyed.
Patch changes
Edit