Shadow StepNon-damaging movement type35

m

range2 sec duration10 sec cooldown

After marking a destination, Reaper disappears and reappears at that location.

Default Key: (E,

)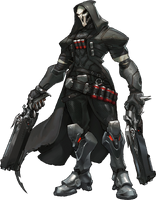 Upon first activating Shadow Step, Reaper is able to mark a location within range, then teleports to that location over the course of two seconds. This is done simply by aiming at the location. Aiming at the side of a ledge will put the target on its top, allowing Reaper to ascend to a higher level.
Reaper is very vulnerable during Shadow Step, as he can not shoot, crouch, walk, jump, or reload during the animation. Reaper has several voice lines that are very prominent when teleporting to nearby enemies.
Shadow Step can not be used while jumping or falling.
Patch changes
Edit
Ad blocker interference detected!
Wikia is a free-to-use site that makes money from advertising. We have a modified experience for viewers using ad blockers

Wikia is not accessible if you've made further modifications. Remove the custom ad blocker rule(s) and the page will load as expected.