Skins in Overwatch are cosmetic items that allow players to alter the appearance of their hero. They range in quality from common to legendary and are obtained via purchase using credits or opening Loot Boxes. A small set can only be unlocked by participating in promotional events or completing out-of-game requirements.
With each cosmetic skin, a hero's weapon (or weapons, in some cases) will also receive a matching skin. In addition, there are also golden weapon skins that may be unlocked using Competitive Points.
Prices by rarity
Edit
With the exception of the default hero skins and golden weapon skins, these have a chance of being inside Loot Boxes; in the case of the holiday skins, they have a chance of being inside their respective holiday's Loot Boxes.
Common skins are the default skin of each hero. These are free.
Rare skins are  75.
Legendary skins not linked to a holiday event are  1000.

Holiday event skins are  3000.

These skins sometimes will include different voicelines, including Ultimate Ability voicelines.

Golden weapon skins typically cost  3000.
Skins by rarity
Edit
Ana

| | | | |
| --- | --- | --- | --- |
| | | | |
| Citrine | Garnet | Peridot | Turquoise |
D.Va

| | | | |
| --- | --- | --- | --- |
| | | | |
| Blueberry | Lemon-Lime | Tangerine | Watermelon |
Genji

| | | | |
| --- | --- | --- | --- |
| | | | |
| Azurite | Cinnabar | Malachite | Ochre |
Hanzo

| | | | |
| --- | --- | --- | --- |
| | | | |
| Azuki | Kinoko | Midori | Sora |
Junkrat

| | | | |
| --- | --- | --- | --- |
| | | | |
| Bleached | Drowned | Irradiated | Rusted |
Lúcio

| | | | |
| --- | --- | --- | --- |
| | | | |
| Azul | Laranja | Roxo | Vermelho |
Mei

| | | | |
| --- | --- | --- | --- |
| | | | |
| Chrysanthemum | Heliotrope | Jade | Persimmon |
Mercy

| | | | |
| --- | --- | --- | --- |
| | | | |
| Celestial | Mist | Orchid | Verdant |
Pharah

| | | | |
| --- | --- | --- | --- |
| | | | |
| Amethyst | Copper | Emerald | Titanium |
Reaper

| | | | |
| --- | --- | --- | --- |
| | | | |
| Blood | Midnight | Moss | Royal |
Sombra

| | | | |
| --- | --- | --- | --- |
| | | | |
| Cidro | Incendio | Mar | Noche |
Symmetra

| | | | |
| --- | --- | --- | --- |
| | | | |
| Cardamom | Hyacinth | Saffron | Technomancer |
Tracer

| | | | |
| --- | --- | --- | --- |
| | | | |
| Electric Purple | Hot Pink | Neon Green | Royal Blue |
Winston

| | | | |
| --- | --- | --- | --- |
| | | | |
| Atmosphere | Banana | Forest | Red Planet |
Zarya

| | | | |
| --- | --- | --- | --- |
| | | | |
| Brick | Goldenrod | Taiga | Violet |
Merciful
Ana
Shrike
Ana
Defense Matrix
Bastion
Omnic Crisis
Bastion
Carbon Fiber
D.Va
White Rabbit
D.Va
Carbon Fiber
Genji
Chrome
Genji
Auditiva
Lúcio
Synaesthesia
Lúcio
On The Range
McCree
White Hat
McCree
Earthen
Mei
Snow Plum
Mei
Amber
Mercy
Cobalt
Mercy
Ascendant
Zenyatta
Carbon Fiber
Zenyatta
Harmonious
Zenyatta
Legendary
Edit
Ana

| | | | |
| --- | --- | --- | --- |
| | | | |
| Wadjet | Wasteland | Captain Amari | Horus |
Bastion

| | | | |
| --- | --- | --- | --- |
| | | | |
| Antique | Woodbot | Gearbot | Steambot |
D.Va

| | | | |
| --- | --- | --- | --- |
| | | | |
| Junker | Scavenger | B.Va | Junebug |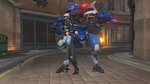 Officer
Genji

| | | | |
| --- | --- | --- | --- |
| | | | |
| Sparrow | Young Genji | Bedouin | Nomad |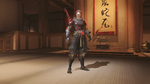 Oni
Hanzo

| | | | |
| --- | --- | --- | --- |
| | | | |
| Young Hanzo | Young Master | Lone Wolf | Okami |
Junkrat

| | | | |
| --- | --- | --- | --- |
| | | | |
| Fool | Jester | Hayseed | Scarecrow |
Lúcio

| | | | |
| --- | --- | --- | --- |
| | | | |
| Hippityhop | Ribbit | Breakaway | Slapshot |
McCree

| | | | |
| --- | --- | --- | --- |
| | | | |
| Gambler | Riverboat | Mystery Man | Vigilante |
Mei

| | | | |
| --- | --- | --- | --- |
| | | | |
| Firefighter | Rescue Mei | Abominable | Yeti Hunter |
Mercy

| | | | |
| --- | --- | --- | --- |
| | | | |
| Sigrún | Valkyrie | Devil | Imp |
Pharah

| | | | |
| --- | --- | --- | --- |
| | | | |
| Mechaqueen | Raptorion | Raindancer | Thunderbird |
Reaper

| | | | |
| --- | --- | --- | --- |
| | | | |
| Nevermore | Plague Doctor | El Blanco | Mariachi |
Reinhardt

| | | | |
| --- | --- | --- | --- |
| | | | |
| Blackhardt | Bloodhardt | Lionhardt | Stonehardt |
| | |
| --- | --- |
| | |
| Balderich | Greifhardt |
Roadhog

| | | | |
| --- | --- | --- | --- |
| | | | |
| Islander | Toa | Mako | Sharkbait |
Soldier: 76

| | | | |
| --- | --- | --- | --- |
| | | | |
| Commando: 76 | Night Ops: 76 | Daredevil: 76 | Stunt Rider: 76 |
Sombra

| | | | |
| --- | --- | --- | --- |
| | | | |
| Azúcar | Los Muertos | Augmented | Cyberspace |
Torbjörn
Chopper
Deadlock
Barbarossa
Blackbeard
Tracer

| | | | |
| --- | --- | --- | --- |
| | | | |
| Punk | Ultraviolet | Mach T | T. Racer |
Winston

| | | | |
| --- | --- | --- | --- |
| | | | |
| Frogston | Undersea | Explorer | Safari |
Zarya

| | | | |
| --- | --- | --- | --- |
| | | | |
| Artic | Siberian Front | Cybergoth | Industrial |
Holiday skins
Edit
Summer Games
Edit
Main article: Summer Games
Legendary
Edit
Seleção
Lúcio
Striker
Lúcio
Sprinter
Tracer
Track And Field
Tracer
Champion
Zarya
Weightlifter
Zarya
Halloween Terror
Edit
Main article: Halloween Terror
Legendary
Edit
Winter Wonderland
Edit
Main article: Winter Wonderland
Legendary
Edit
Year of the Rooster
Edit
Legendary
Edit
Uprising
Edit
Legendary
Edit
Anniversary
Edit
Promotional
Edit
Overwatch pre-order
Edit
Origins/Collector's Edition
Edit
BlizzCon
Edit