Sonic Amplifier 20 rounds per clip 1.25-second reloadPrimary fire: Sonic Projectiles Burst fire linear projectile type 20 damage per projectile  4 projectiles per shot  Max 80 bodyshot damage 1 burst per second 4 rounds per burst 50

m/s

projectile speed ✔ Can headshot
Secondary fire: Soundwave
 Knockback and damaging frontal area-of-effect type
 25 damage
 4 rounds per shot
 8

m

range
 4-second cooldown
 ✘ Cannot

headshot


 

✘ Cannot inflict self knockback

Lúcio can hit his enemies with sonic projectiles or knock them back with a blast of sound.

Primary Fire Key: (

,

,

)
Secondary Fire Key: (

,

,

)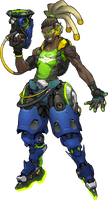 Lúcio's primary fire will fire 4 sonic projectiles that move at a medium speed; one shot costs 4 ammo. Each projectile deals 20 damage, inflicting total 80 damage if all 4 rounds hit. The projectile can inflict headshot.
Lúcio's secondary fire will create a short-range soundwave that deals 25 damage and pushes back enemies a considerable distance, with increased force if fired in the direction the target is moving or the target is close to Lúcio. One shot of soundwave costs 4 ammo and has a cooldown of 4 seconds.
Because 4 ammo are always used each time with either primary or secondary attacks from an ammunition of 20, 5 possible shots, including soundwave, will be used before reloading. However, the firing animation can interrupted by using Quick Melee, resulting in less projectiles being fired. Even if less than 4 ammo remains, the secondary fire can still be used.
Patch changes
Edit
 April 11, 2017 Patch: Damage increased by 25%; Projectile speed increased from 40 to 50; Alternate fire now considers vertical orientation when knocking targets back
 March 8, 2016 (beta) Patch: Damage reduced by 25%, Projectile size slightly reduced