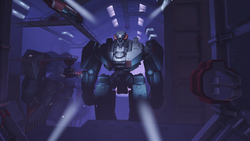 A Svyatogor is a large, human-piloted mech. They are produced and used in Volskaya Industries for combat and city defense in the Omnic Crisis. The Volskaya Industries factory was reactivated in Second Omnic Crisis.
Svyatogor (Святого́р) is a Kievan Rus' mythical bogatyr (means knight/hero) from bylinas, a traditional East Slavic oral epic narrative poem, named Ilya Muromets and Svyatogor. He is a giant, who was a friend of bogatyr Ilya Muromets, later was sealed into his coffin. His name is a derivation from the words "sacred mountain".
Ad blocker interference detected!
Wikia is a free-to-use site that makes money from advertising. We have a modified experience for viewers using ad blockers

Wikia is not accessible if you've made further modifications. Remove the custom ad blocker rule(s) and the page will load as expected.