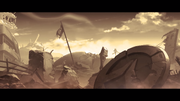 The
Swiss Headquarters
of
Overwatch
, presumably located in Zürich, was destroyed during the time the organization was under investigation by the
United Nations
. Rumor has it that the ensuing explosion was the direct result of a fight between two of Overwatch's most prominent members:
Jack Morrison
and
Gabriel Reyes
. Morrison supposedly died, but his body was never recovered.
The Swiss location was also presumably the base of operations for Overwatch's chief medical officer, Angela Ziegler.