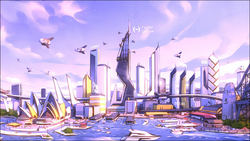 Sydney is the most populous city in Australia. It has appeared multiple times in Overwatch media.
In the Cinematic Trailer, there is a scene showing the Omnic Crisis in Sydney, with Titans and fighter jets attacking from the bay.
In Going Legit, Junkrat and Roadhog are hired by the CEO of Hyde Global to rescue the company's workers from omnic terrorists. After finding out the CEO was lying to get them arrested, the two blow up the company's skyscraper.
In Reflections, Junkrat and Roadhog have returned to Sydney to cause mayhem at Luna Park.
As of Summer Games 2017, it became the home to Sydney Harbour Arena