Tesla Cannon Frontal area of effect beam type 100 rounds per clip 1.5-second reload 3 damage per round  60 damage per second 20 rounds per second 8

m

range 

6

m

radius ✘ Cannot headshot

Winston's weapon fires a short-range electric barrage for as long as he holds down the trigger.

Default Key: (

,

,

)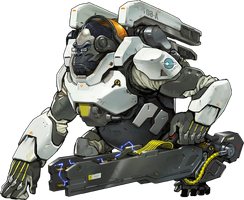 Winston's Tesla Cannon tases enemies within a cone, dealing 60 damage per second. The Tesla Cannon is not blocked by barriers. The weapon can strike all enemies and objects in a 6 m cone in front of Winston.
With the Tesla Cannon, electric arcs latch on to grounded objects (humans, Omnics, most electrical equipment), making it extremely hazardous to living creatures.[1]
References
Edit
↑ Overwatch Visual Source Book, p.101