Ultimate Ability: Transcendence Area healing ultimate type 10

m

radius 300 HP per sec 11

m/s

movement speed Lasts 6 sec

Zenyatta enters a state of heightened existence for a short period of time. While transcendent, Zenyatta cannot use abilities or weapons, but is immune to damage, moves twice as fast, and automatically restores his health and that of nearby allies.

Default Key: (

,

,

)
"Experience tranquility."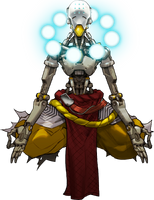 During this time, Zenyatta is forced to play in third person. He is still vulnerable to knockback and stun effects, though neither will interrupt the ultimate. His movement speed is doubled upon activation.
A Zenyatta on the enemy team will say "Pass into the Iris", while an allied and player-controlled Zenyatta says "Experience tranquility."
Patch changes
Edit