Translocator
Projectile type1 ammunition15 sec duration4 sec cooldown
Sombra tosses out a translocator beacon. She can instantly return to the beacon's location while it is active (including when it's in mid-flight).
Default Key: (E,

)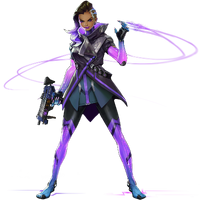 Sombra throws the translocator in a wide arc. The device will bounce off of walls and can land on flat ground or on a sloped surface; a sound will play once it has landed. If the device is thrown off a cliff, it will be destroyed.
Sombra has 15 seconds after it is thrown to teleport to it, displayed with a circular timer around her crosshairs. The 4-second cooldown will begin either when Sombra teleports or when the timer runs out.
Sombra can both throw and use the Translocator without canceling her Stealth.
Patch changes
Edit
References
Edit
Ad blocker interference detected!
Wikia is a free-to-use site that makes money from advertising. We have a modified experience for viewers using ad blockers

Wikia is not accessible if you've made further modifications. Remove the custom ad blocker rule(s) and the page will load as expected.