Overwatch Seasonal Events – Uprising (seasonal event)
Uprising is a lore-based seasonal event in Overwatch that started on April 11, 2017, and is going to end on May 2, 2017. The event includes a new lore-based co-op brawl mode that takes place in a modified version of King's Row.
The event also contained a destroyed reskin of King's Row, special achievements and a limited series of items, which could be earned through special Loot Boxes, and unlocked through Hero Gallery. All event-exclusive content will become unobtainable once the event ends.
A special comic, Uprising, was released as a part of this event's promotion.
Uprising is an Arcade game mode exclusive to the event. This special brawl takes place on a modified version of King's Row. Similar to Junkenstein's Revenge, a team of 4 players complete objectives while fighting off hordes of AI-controlled enemies in true PvE fashion. There are 4 difficulties available: Normal, Hard, Expert, and Legendary.
In the normal version, players choose between Tracer, Torbjörn, Reinhardt, and Mercy, while in the all heroes version, any hero can be chosen, with a maximum of 1 of each hero.
Uprising was an Overwatch mission tasked to defeat the Null Sector uprising in King's Row. After Commander Morrison's proposal of an Overwatch strike team was shut down by the British Prime Minister, he sent Tracer, Torbjörn, Reinhardt, and Mercy on to fight the Null Sector Omnics against the orders. The team fought through the city, shutting down anti-air turrets and defeated the Null Sector Omnics.
Uprising Items
Edit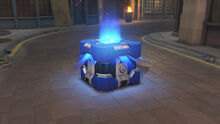 There are 114 Uprising items, which are comprised of 10 Skins, 3 Emotes, 6 Victory Poses, 48 Voice Lines, 31 Sprays (including 6 Sprays from the achievements), 3 Highlight Intros, and 13 Player Icons. All items can be earned by opening special Loot Boxes, which replaces the normal Loot Boxes during the Overwatch Uprising event. All items excluding player icons are purchasable at a cost of three times the normal price of items of the same rarity. Completing Special achievements will grant the player unique sprays which are exclusive to this event. Items along with the achievements which were not obtained during the event remain unavailable after the event ends.
Additional Skins
Edit
Additional Emotes
Edit
Additional Victory Poses
Edit
Additional Voice Lines
Edit
Additional Sprays
Edit
Additional Highlight Intros
Edit
Additional Player Icons
Edit
King's Row map reskin
Edit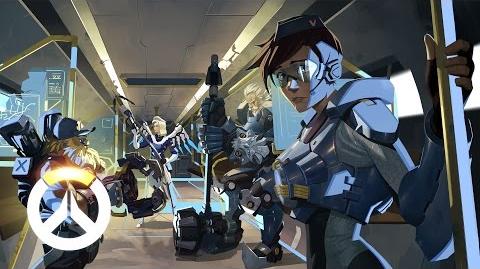 External Links
Edit
Patch changes
Edit
Ad blocker interference detected!
Wikia is a free-to-use site that makes money from advertising. We have a modified experience for viewers using ad blockers

Wikia is not accessible if you've made further modifications. Remove the custom ad blocker rule(s) and the page will load as expected.