"Let me show you how it's done."


This article has been semi-protected! Reason: Excessive vandalism.
Widowmaker is one of the heroes in Overwatch. She is an assassin who possesses no emotion except for the satisfaction of her targets' elimination.
Widowmaker equips herself with whatever it takes to eliminate her targets, including mines that dispense poisonous gas, a visor that grants her squad infra-sight, and a powerful sniper rifle that can fire in fully-automatic mode.
Bio
Widowmaker is the perfect assassin: a patient, ruthlessly efficient killer who shows neither emotion nor remorse.
It is believed that in her former life, Widowmaker was married to Gérard Lacroix, an Overwatch agent spearheading operations against the Talon terrorist organization. After several unsuccessful attempts to eliminate Gérard, Talon decided to change its focus to his wife, Amélie. Talon operatives kidnapped her and subjected her to an intense program of neural reconditioning. They broke her will, suppressed her personality, and reprogrammed her as a sleeper agent. She was eventually found by Overwatch agents, apparently none the worse for wear, and returned to her normal life.
Two weeks later she killed Gérard in his sleep.
Her mission complete, Amélie returned to Talon, and they completed the process of turning her into a living weapon. She was given extensive training in the covert arts, and then her physiology was altered, drastically slowing her heart, which turned her skin cold and blue and numbed her ability to experience human emotion. Amélie was gone.
Now, Widowmaker is Talon's most effective assassin, feeling little save the satisfaction of a job well done.
Abilities
Beside these abilities, Widowmaker is able to jump, crouch, reload (only when her ammo is not full), and perform Quick Melee.
Unlocks
All seasonal event items, which are marked with special event icons ( • • • • • ), are only available to be unlocked either through their respective Loot Boxes or by Credits within the event's duration. During the event, newly-introduced event items cost three times as much as non-event items of the same rarity, while returning seasonal items are unlocked at the regular price. Items which are obtained from an external source are marked with Blizzard icons () and their requirements are noted below.
Skins
For all of Widowmaker's skins and weapons, see Widowmaker/Skins and Weapons.
Common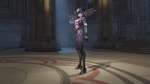 Classic
(default)
Rare

Ciel
( 75)
Nuit
( 75)
Rose
( 75)
Vert
( 75)
Epic

Patina
( 250)
Winter
( 250)
Tricolore
()
Legendary

Odette
( 1000)
Odile
( 1000)
Comtesse
( 1000)
Huntress
( 1000)
Note:
Emotes
Common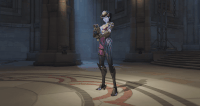 Heroic
(default)
Epic

At Resta
( 250)
Curtain Call
( 250)
Delighted
( 250)
Shot Dead
( 250)
Widow's Kiss
( 250)
Balleta
()
Note:

a This emote after activating will remain in its animation until the player inputs other actions to interrupt it.
Victory Poses
Common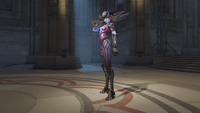 Heroic
(default)
Rare

Activating Visor
( 75)
Gaze
( 75)
Over The Shoulder
( 75)
Voice Lines
A Single Death (default, "A single death can change everything.")
Encore?
Let Them Eat Cake
Look For The Woman ("

Cherchez la femme

.")
Magnifique
One Shot, One Kill ("

Une balle, un mort

.")
Ouh Là Là ("Hsss, ouh là là!")
Step Into My Parlor... (""Step into my parlor," said the spider to the fly.")
That's How It Is ("

C'est comme ça

.")
To Life, To Death ("

À la vie, à la mort

.")
What's An Aimbot?
I Don't Miss ()
The Party is Over ()
You Have My Attention ()
What A Bore ()
Sprays
For Widowmaker-specific sprays, see Widowmaker/Sprays.
Highlight Intros
Common
Heroic
(default)
Epic

Hanging Around
( 250)
I See You...
( 250)
Swinging Into Action
( 250)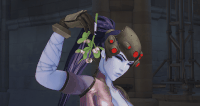 Under The Mistletoe

(
750)
Weapons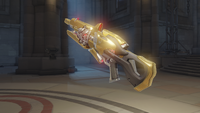 Golden
(

 3000)
Achievements
Story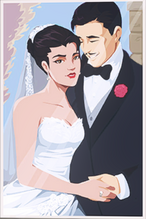 Amélie Guillard had been a successful ballerina[2], and a member of the once-influential Guillard family. After marrying Gérard Lacroix, who was an agent of Overwatch leading operations against Talon, she adopted his surname. In an attempt to kill Gérard, Talon kidnapped her and submitted her to neural reconditioning and torture to turn her into a sleeper agent. Overwatch later rescued her, but after two weeks she killed Gérard in his sleep and returned to Talon. The neural reconditioning had finished, turning her emotionless, and she was trained in covert arts. Her heart rate was lowered to give her steadier aim, which turned her skin blue. Despite this, Overwatch still believes that Talon killed her husband and kidnapped her again.
Now under the name of Widowmaker, she later clashed with Overwatch agents while they were attempting to rescue hostages, successfully killing several before she sighted Captain Ana Amari. The two tried to attack one another, and Ana was successful in shooting off Widowmaker's visor to reveal Amélie Lacroix's face. The sight made Ana hesitate. giving Widowmaker enough time to seemingly fatally shoot Ana Amari through her right eye.[5]
She had been an active assassin for Talon through all the years. Recently, Widowmaker was sent to assassinate Tekhartha Mondatta at his speech in King's Row. Though Tracer tried to stop her, Widowmaker successfully made a fatal shot and eliminated Mondatta. She then incapacitated Tracer, damaged her chronal accelerator and escaped.[6] Later, Widowmaker worked with Reaper in an attempt to steal Doomfist's gauntlet from a museum. They were thwarted by Winston and Tracer; though both escaped intact, the gauntlet was badly damaged, and the two lost the upper hand.[7]
Widowmaker yet again worked with Reaper alongside a hacker named Sombra in an attempt to assassinate Katya Volskaya. While the Talon agent was in position and ready to kill, an unsuspecting alarm went off, thus ruining her chance of a perfect shot. Widowmaker, while surprised and annoyed by this, was then told to hold the perimeter by Reaper as he and Sombra would try to eliminate the CEO themselves. After learning that the mission failed and Katya had escaped, Widowmaker went back to the ship.[8]
During the holidays, Widowmaker was seen visiting Gérard's grave.[9]
Personality
Due to her brainwashing, Widowmaker has a malevolent disposition and is very detached from her sentiment. She shows no mercy for her targets no matter who they are and has a love for killing, claiming that it makes her feel alive. She also seems to possess vanity when it comes to her skills and looks.
However, it is implied that Widowmaker isn't completely emotionless, as there are bits and pieces of evidence which indicate that her former self is still there somewhere. An example is when she's resurrected by Mercy in-game, she'll sometimes call out for her husband, or lament the fact that she's still alive. She also visited her husband's grave silently around Christmas, implying that she still possesses emotion to some extent, or that the brainwashing is starting to crack.
Merchandise
Tips
Widowmaker has an extremely long range with her sniper rifle, so it's good to take high positions and with a good view of the paths enemies use - even if they're far from reaching the Objective.
Use her grappling hook to reach vantage points or to escape from danger. Study the maps to find where are the sweet spots for sniping or fleeing.
Infra-Sight allows her entire team to see enemies through walls. It's a good thing when the team is preparing for another wave of attacks, or their position if they're spread around, or even predicting their movement.
For the Smooth as Silk achievement a good set up is when you use your grappling hook press the jump button to cancel the ability and keep the momentum. If done correctly you will fling off the edge and give your self some time to get the head-shot.
She has relatively low health, so picking a hard-to-find perch is a necessity.
However, staying in one position for a long time is not a good idea. Enemies will try to evade your line of sight. Continuously switching spots is key to survival.
Use poison traps on entrances to your sniper perch. Whether they're destroyed or they go off, you'll know someone is there.
Venom Mines can also be used to defend health packs near Widowmaker.
Widowmaker rewards highly skilled players, being an insanely devastating character in the right hands. She is not forgiving either, whereas if the player isn't pinpoint accurate, she will be near useless to her team. Learn the right times to switch and consider ways to help your team, primarily in competitive play.
Spam firing is not a good idea with Widowmaker, as it only reveals yourself. If you miss several shots, then moving to a new location would be smart.
The key to getting eliminations is prediction, guessing where the user will go next. What may also help is a tactic known as flickshotting, where the user "flicks their wrist" to shoot at a location. It is best to observe the movement of players before actually firing to get a feel of where they will be next.
Professional Widowmakers have great insight and estimations about where their targets will be in the next moment. This all traces back to good reflexes, which is key to any sniper. Messing around in the Shooting Range and fighting against hard AI enemies is a good idea, as it won't do anything except help you develop this knowledge and reflexes, and won't ruin your stats, if that's what you're worried about.
Aiming at a choke point and keeping your sights about head level can allow for easy eliminations, provided that you react fast enough.
Counters
Her poison traps can be destroyed.
Winston can be an especially effective counter to Widowmaker; jump up to her perch and drop your bubble, your electricity will take her down in a few moments. If she tries to flee with her grappling hook, follow with your jump, as it is on a much shorter cooldown.
D.Va can use her boosters to quickly approach Widowmaker, close the gap, and harass her. Widowmaker has very little way of dealing with heroes at close range, especially ones with high health, like Tanks.
A skilled Genji can reflect a sniped shot, possibly killing the Widowmaker, but this isn't a very reliable way of killing her. It is best to approach her from up close, as she is most vulnerable then.
Mei's icicle is very accurate and can do a surprising amount of damage, provided it is a headshot.

Alternatively, Mei can block Widowmaker with an Ice Wall temporarily, as her Ice Wall placement has a rather large range.
Trivia
In some skins, Widowmaker has a tattoo which wraps around her right arm which reads "araignée du soir, cauchemar"; it means "evening spider, nightmare" in French. This is a play on the second half of a common French superstition: "araignée du matin, chagrin, araignée du midi, souci, araignée du soir, espoir" which translates to "morning spider, grief, midday spider, worry, evening spider, hope."[10]
As a young girl, Widowmaker was afraid of spiders and was told they felt no emotion.[6]
A modeling error occurred during the beta where her backside enlarged when she activated her ultimate ability.
When equipped with "Huntress" skin, her ultimate voice line is changed into "No one can hide from the huntress" when heard from ally's and player's perspective.
Widow's "Venom Mine" is incorrectly named. As it releases a cloud of gas, it should be classified as a poison, and not a venom. A venom is a toxin that is specifically injected into the subject in some way, such as a bite or a sting, while poison delivers its toxins to the subject indirectly, such as through contact, digestion or inhalation.
Widowmaker is available as a skin for Nova, albeit with no altered voice-over; she still sounds and shares the same model as Nova.
Cultural References
Widowmaker's "Odette" and "Odile" skins are a reference to the two characters from the ballet Swan Lake - the white swan and black swan respectively.
Most of Widowmaker's skins are named after the French word for their color - translated, they are just "Sky", "Night", "Green", "Pink", and "Black".
Her "Comtesse" skin means "Countess" in French. It might be a reference to Count Dracula, or vampire hunters in general, evidenced by the palette of red and black, and the general 19th century design, often used in that theme.
Widowmaker's voice line "Let them eat cake" is the traditional translation of the popular French phrase "Qu'ils mangent de la brioche", supposedly spoken by "a great princess" upon learning that the peasants had no bread. It is commonly attributed to Queen Marie Antoinette; there is no record of this phrase ever having been said by her.
Widowmaker's voice line "Look for the woman" ("Cherchez la femme") is a cliché of detective pulp fiction; it means no matter what the problem, a woman is often the root cause. It may reference to the murder of her late husband.
Widowmaker's Voice Line "One shot, one kill" may be based on the military sniper's creed and possibly the novel of the same name, One Shot, which is, also, based on the military sniper's creed.
Widowmaker's Under the Mistletoe highlight intro refers to the common tradition of kissing somebody underneath hanging mistletoe around the holidays.
Patch changes
For changes made to Widowmaker's abilities, see Widow's Kiss, Grappling Hook, Venom Mine, and Infra-Sight.
References
Heroes in Overwatch
Offense
Defense
Tank
Support