Overwatch Seasonal Events
Year of the Rooster was a Lunar New Year-based seasonal event in Overwatch that started on January 24, 2017, and ended on February 13, 2017. The event included a new capture-the-flag brawl mode, Capture the Rooster, which takes place in a modified seasonal Lijiang Tower reskin.
The event also contained a Lunar New Year reskin of Lijiang Tower, 2 special achievements and a limited series of items, which could be earned through special Loot Boxes, and unlocked through the Hero Gallery. All event-exclusive content became unobtainable once the event ended.
A special tapestry, Winston's Journey to the West, was released as a part of this event's promotion.
Capture the Rooster
Edit
Main article: Capture the Rooster
Capture the Rooster is an Arcade game mode exclusive to the event; it replaced the mode Mystery Duel in the time of the event. This special Brawl takes place on one stage of a modified seasonal Lijiang Tower reskin. Both teams have a flag near their spawn room that the other team must capture. A player can pick up the other team's flag after a short capture time, and their team gains a point if it is taken to their team's flag spot. However, the flag will be dropped if the player is killed, and can be returned to its start if the other team captures it back.
There are 2 Special achievements tied to this brawl that will unlock sprays when achieved.
Year of the Rooster items
Edit
There are 124 Year of the Rooster items, which are comprised of 13 Skins, 3 Emotes, 7 Victory Poses, 23 Voice Lines, 52 Sprays (including 2 Sprays from the achievements), 3 Highlight Intros, and 23 Player Icons. All items can be earned by opening special Loot Boxes, which replaces the normal Loot Boxes during the Year of the Rooster event. All items excluding player icons are purchasable at a cost of three times the normal price of items of the same rarity. Completing Special achievements will grant the player unique sprays which are exclusive to this event. Items along with the achievements which were not obtained during the event remain unavailable after the event ends.
Additional Skins
Edit
Additional Emotes
Edit
Additional Victory Poses
Edit
Additional Voicelines
Edit
Additional Sprays
Edit
Additional Highlight Intros
Edit
Additional Player Icons
Edit
Lijiang Tower map reskin
Edit
Main article: Lijiang Tower (Lunar New Year)
Night Market
Garden
Control Center
Pachimari Paper Lanterns
Edit
As part of the promotion of the Year of the Rooster, Blizzard Entertainment released a set of pachimari paper lanterns. Feel free to check out what you want below and print.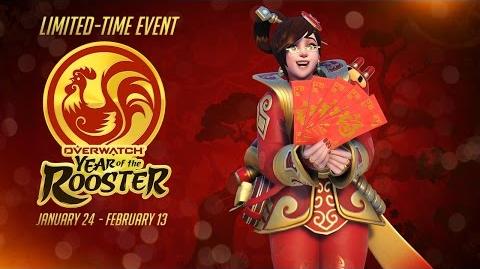 The song that plays during D.Va's Year of the Rooster menu screen is a rendition of the Korean folk song, 아리랑 (Arirong).
Mercy's Fortune skin was originally named Golden, but this was changed for an unknown reason.
Exteral links
Edit
Patch changes
Edit